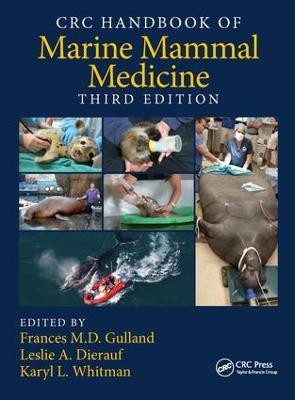 CRC Handbook of Marine Mammal Medicine, Third Edition
For three decades, this book has been acknowledged as the most respected scientific reference specifically devoted to marine mammal medicine and health. 'Lees meer…
Leveren binnen België: meer dan 6 dagen
ProductDetails
Uitgeverij: Taylor & Francis Inc
Publicatiedatum: 1 mei 2018
Boek

- HARDCOVER

Editie 3
Pagina's: 1108
ISBN: 9781498796873
Over de auteur
Leslie Dierauf, V.M.D. is a retired wildlife veterinarian, having pursued a successful and unique professional career in a variety of venues. Most recently, from 2008-2011, Leslie served in a federal agency capacity, as the senior executive Pacific Northwest Regional Director, and prior to that as the Director of the National Wildlife Health Center for the US Department of the Interior's US Geological Survey (USGS). Between 1994 and 2004, Leslie worked for the US Fish and Wildlife Service in the Southwestern US, primarily with local communities in NM, AZ, TX and OK, working together to create land, water and development plans while protecting a multitude of threatened and endangered species through habitat conservation plans and the Mexican gray wolf reintroduction program.
Frances M. D. Gulland, Vet MB, PhD, MRCVS is a veterinarian at The Marine Mammal Center in Sausalito, California. She has been actively involved in the veterinary care and rehabilitation of stranded marine mammals and research into marine mammal diseases there since 1994. Her interests include determining the impacts of human activities on marine mammal health, and how marine mammals can in turn serve as indicators of ocean health. She received a veterinary degree from the University of Cambridge, U.K., in 1984, and a PhD in Zoology there in 1991. She currently serves as Commissioner on the U. S. Marine Mammal Commission.
Karyl L. Whitman, Ph.D is a wildlife behavioral ecologist interested in applied ecology and mitigating human effects on wildlife. She received a B.A. in Archaeology and Anthropology from Rutgers University. As a John D. and Catherine T. MacArthur Fellow, Karyl received her Ph.D. in Ecology, Evolution, and Behavior from the University of Minnesota in 2006 under the direction of Dr. Craig Packer. Her research modelled the effects of trophy hunting and developed a new method to non-invasively age African lions that has been instrumental in reforming the hunting industry across several African states. She has studied a variety of East Africa wildlife, however more recently she assists with field research of California sea lions and northern fur seals in California. Karyl serves as a scientific advisor on the African Lion Working Group and to the Serengeti Lion Project. She currently lives in Seattle with her four children and husband, Tom Gelatt, who is the real marine mammal biologist in the family.