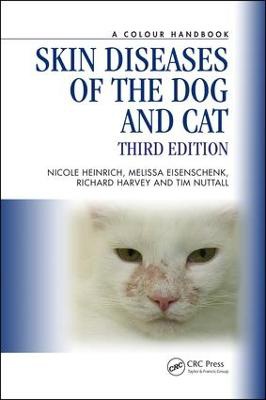 Skin Diseases of the Dog and Cat
A Colour Handbook of Skin Diseases of the Dog and Cat was one of the first books to bring key information about skin diseases to clinicians in an easy-to-use 'Lees meer…
Leveren binnen België: 1 à 3 werkdagen
ProductDetails
Uitgeverij: Taylor & Francis Ltd
Publicatiedatum: 7 november 2018
Boek

- Softcover

Editie 3
Pagina's: 296
ISBN: 9781138308701
Over de auteur
Dr Tim Nuttall BSc BVSc CertVD PhD CBiol MSB MRCVS joined the University of Liverpool in 2001 and in 2004 was made Senior Lecturer in Veterinary Dermatology. In August 2013 he returned to the Dick Vet as Head of Veterinary Dermatology. Tim has an active interest in research, studying new treatment approaches, antimicrobial resistance, host-pathogen interactions and the genetics of canine atopic dermatitis. He has contributed to over 70 clinical and scientific publications, including chapters in the BSAVA Manuals of Small Animal Dermatology and Laboratory Techniques, and 'Kirk's Current Veterinary Therapy'. Tim has an interest in evidence-based medicine, and has contributed to practice guidelines for canine atopic dermatitis and pyoderma, as well as responsible antimicrobial use and infection control with the Bella Moss Foundation, BSAVA website, BSAVA/ SAMSOC PROTECT guidelines and as a BSAC Antibiotic Action Champion. In addition, he has presented over 100 lectures throughout the world. Tim has served on a number of committees and administrative posts, including on University Boards of Discipline, Education and Disability Committees, BSAVA, DEFRA and ESVD Scientific Committees, BVDSG committee, RCVS Council and examination boards, the International Committee on Atopic Diseases in Animals, and the Bella Moss Foundation. Until recently he was a co-editor of Veterinary Dermatology and he still serves on the editorial board.
Dr Melissa Eisenschenk, MS, DVM, DACVD is a board-certified veterinary dermatologist. She completed her Bachelor of Science with minors in Animal Science and Chemistry at the University of Wisconsin- River Falls and attended veterinary school at the University of Minnesota. After vet school, she was in private practice for 4 years in Rochester and Minneapolis, and then returned in 2006 to the University of Minnesota for a dermatology residency (3 year program) and Master's degree. She passed dermatology board exams in 2009. Dr. Eisenschenk worked out of the Oakdale Animal Emergency and Referral Center as a Veterinary Dermatologist for 3.5 years before starting Pet Dermatology Clinic. She has a bunch of city chickens, a husband, cat (Pete), and 2 daughters, Mae and Beatrice.
Dr Nicole Heinrich received her Bachelor of Science Degree from the University of Wisconsin-Milwaukee in 2003, and her Doctor of Veterinary Medicine degree in 2007. Dr. Heinrich completed a rotating surgery and medicine internship at VCA Aurora/Berwyn in 2008 and started a dermatology residency that same year. She became board certified in dermatology in 2012.Dr. Heinrich is credentialed in stem cell therapy. She has diagnosed and treated more than 6,000 dogs, cats and horses with skin and ear diseases.
Richard G. Harvey, BVSc DVD, Dip.ECVD, FSB, PhD, MRCVS is a partner in a small animal practice in Coventry. He has authored 20 scientific papers and four text books.