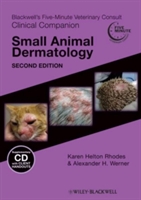 Small Animal Dermatology
Blackwell's Five-Minute Veterinary Consult Clinical Companion
This quick reference manual offers accessible, reliable knowledge on small animal dermatology in the popular Blackwell's Five-Minute Veterinary Consult 'Lees meer…
ProductDetails
Uitgeverij: Iowa State University Press
Publicatiedatum: 4 januari 2011
Boek

- Softcover

ISBN: 9780813815961
Boekrecensies
<p> This book will be a valuable edition to any library and could easily become the go to text when diagnosing and treating dermatologic diseases. It will be one that is reached for again and again by veterinary technicians and veterinarians alike as well as students seeking to learn more about veterinary dermatology. (VSPN.org, 1 October 2013) <p> Overall, this is an up-to-date quick reference text for dermatology that would have a good place on most book-shelves in general practice. (Veterinary Times, 1 May 2012)"The succinct and practical nature of the book makes it an excellent handy reference guide, with a surprising amount of detail on each condition." (JSAP, 2012) <p>"The following chapters (all beautifully illustrated with colour photographs) look at the various conditions according to their aetiology... I would recommend that you protect and reinforce the soft cover of this Clinical Companion because I believe it won't resist the intensive use it is likely to get in the consulting room." (Vets Today,
Over de auteur
Karen Helton Rhodes, DVM, Diplomate, ACVD, is in private practice at Riverdale Veterinary Dermatology in Riverdale, New Jersey.
Alexander Werner, VMD, Diplomate, ACVD, is in private practice at the Animal Dermatology Center in Studio City, California and in Reno, Nevada.