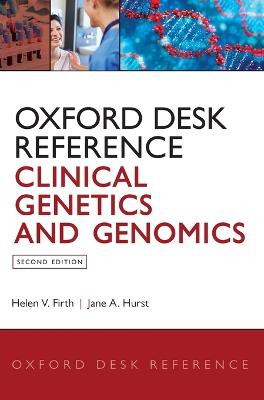 Oxford Desk Reference: Clinical Genetics and Genomics
A popular and easy-to-use guide, this book is a must-have tool for clinical consultations in genetics and genomic medicine.
Ideal for quick reference during 'Lees meer…
Leveren binnen België: meer dan 6 dagen
ProductDetails
Uitgeverij: Oxford University Press
Publicatiedatum: 16 maart 2017
Boek

- HARDCOVER

Editie 2
Pagina's: 824
ISBN: 9780199557509
Over de auteur
Helen V. Firth, Consultant in Clinical Genetics, Cambridge University Hospitals, Cambridge, UK and Hon Faculty Member, Wellcome Trust Sanger Institute, Hinxton, UK, and Jane A. Hurst, Consultant in Clinical Genetics, Great Ormond Street Hospital, London, UK
Dr Helen Firth, DM FRCP DCH is a Consultant Clinical Geneticist at Cambridge University Hospitals, an Honorary Faculty Member of the Wellcome Trust Sanger Institute, and a Bye-Fellow of Newnham College, Cambridge. Her main research interests are in mapping the clinical genome and the matching of rare genomic variants to empower discovery and diagnosis in rare disease. In 2004, she initiated the DECIPHER project (http://decipher.sanger.ac.uk) that enables clinicians and scientists around the world to share information about rare genomic variants to facilitate diagnosis and help to elucidate the role of genes whose function is not yet known. In 2010 Dr Firth became Clinical Lead for the Deciphering Developmental Disorders study (DDD study) (http://www.ddduk.org), one of the world's largest nationwide, genome-wide sequencing projects in rare disease. The study aims to improve diagnosis and further understanding of the genomic architecture of severe developmental disorders.
Dr Jane Hurst is a clinician working full time as a clinical geneticist in the one of the leading children's hospitals in the world; a centre of excellence for the diagnosis and treatment of rare diseases. She moved to her current post in 2010 to lead the dysmorphology service after 18 years working in Oxford, UK. Although primarily a patient-focussed clinician, she has always worked closely with scientific colleagues by identifying families that give important clues to the genetic aetiology. Thus early in her career she identified the first family shown to have leptin deficiency and the two families that led to the cloning of the FOXP2 gene.