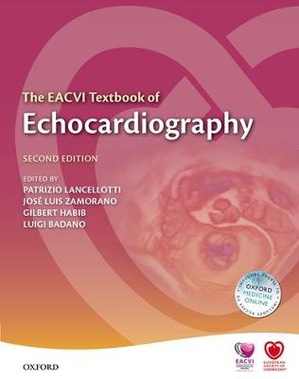 The EACVI Textbook of Echocardiography
This print edition of The EACVI Textbook of Echocardiography comes with a DVD and access to the online version on Oxford Medicine Online, for as long as 'Read more…
Ship to Belgium: 6+ working days
ProductDetails
Publisher: Oxford University Press
Published: November 10, 2016
Book

- HARDCOVER

Edition 2
Pages: 696
ISBN: 9780198726012
About the author
Patrizio Lancellotti, University Hospital Sart Tilman, Liege, Belgium, Jose Zamorano, Department of Cardiology, University Hospital Ramón y Cajal, Madrid, Spain, Gilbert Habib, Department of Cardiology Marseilles, France, Luigi Badano, Department of Cardiovascular Sciences, University of Padua, Italy, and , Department of Cardiology, University of Oslo, Norway
Patricio Lancellotti is head of the intensive care cardiology unit at the University of Liège Hospital Center and Professor of Clinical Medicine at the University of Liège. His research has led to significant progress in the care of patients suffering from functional mitral insufficiency.
Bogdan A. Popescuis the Chair of the EAE Accreditation Committee and Treasurer of the European Association of Cardiovascular Imaging. His responsibilities also include Associate Professor of Cardiology and Director of Echocardiography Laboratory Euroecolab, University of Medicine and PharmacyInstitute of Cardiovascular Diseases.
Luigi P. Badano MD, PhD, FESC, FACC is the director of the Echocardiography Laboratory Department of Cardiac, Thoracic and Vascular Sciences at the University of Padua, Italy.
Maurizio Galderisi is the Associate Professor of Cardiology at the University of Naples, Federico II.
Thor Edvardsen Deputy Head of the Department of Cardiology, and is the Director in the Director, Section of Diagnostics and Treatment at the University of Oslo, Norway.
Jose Zamorano is the Director of the Cardiovascular Institute at the University Clinic San Carlos, Madrid.
Contributors:
Monica Alcantara M.D. - Ecocardiografia,Località Rio de Janeiro, Rio de Janeiro, Brasile
Maria João Andrade - Instituto Cardiovascular de Lisboa
Ashraf M. Anwar - Department of Cardiology, Faculty of Medicine, Al-Azhar University, Cairo, Egypt
Asrar Ahmed MD, DM, MRCP - Northwick Park Hospital, Harrow, UK
George D. Athanassopoulos MD, PhD, FESC - Noninvasive Diagnostics Department, Cardiology Section, Onassis Cardiac Surgery Center, Athens, Greece
Luigi P. Badano MD, PhD - Dpt of Cardiac, Thoracic and Vascular Sciences,University of Padua, Italy
Marcia Barbosa - Universidade Federal de Minas Gerais, Belo Horizonte, Brazil; Ecocenter, Socor Hospital, Belo Horizonte, Brazil
Cristina Basso MD, PhD, FESC - Department of Cardiac Thoracic and Vascular Sciences, University of Padua, Padua-Italy
Nadia Benyounes - Cardiology Unit, Fondation A. de Rothschild, Paris, France
Prof. Helmut Baumgartner - Division of Adult Congenital and Valvular Heart Disease, Department of Cardiovascular Medicine, University Hospital of Muenster, Germany
Javier Bermejo MD, PhD - Noninvasive Cardiology and Cardiovascular Imaging, Department of Cardiology, Hospital General Universitario Gregorio Marañon, Madrid, Spainstefan row
Reidar Bjørnerheim MD, PhD, FESC - echocardiography, Oslo University Hospital, Ullevaal, Dept. of Cardiology, Oslo, Norway
Annemien E. van den Bosch - Department of Cardiology, Erasmus MC University Hospital, Rotterdam, The Netherlands
Eduardo Bossone - Heart Department, "Cava de' Tirreni and Amalfi Coast" Hospital, University of Salerno, Italy
Werner Budts - Dept. of Cardiology, Universitaire Ziekenhuizen Leuven, Leuven, Belgium
Luis Caballero - Department of Cardiology, Hospital Clínico Universitario Virgen de la Arrixaca,Murcia, Spain
Matteo Cameli - Department of Cardiovascular Diseases, University of Siena, Siena, Italy
Guy Van Camp MD, PhD, FESC - Cardiovascular Center Hospital OLV Aalst, Aalst, Belgium
Giovanni La Canna - Clinical Echocardiography, Cardiac Surgery Department, San Raffaele Hospital, Milan, Italy
Nuno Cardim - Imagiologia Cardíaca e Centro de Miocardiopatia Hipertrófica Hospital da Luz Lisboa
Scipione Carerj - Cardiology Unit, Clinical and Experimental Medicine Department, University of Messina, AOU "Policlinico G. Martino," Messina, Italy
Pio Caso MD - Department of Cardiology, Monaldi Hospital, Naples, Italy
João L. Cavalcante MD, FACC, FASE - Advanced Cardiovascular Imaging, Heart & Vascular Institute - UPMC, University of Pittsburgh, Pittsburgh, Pennsylvania, USA
John Chambers -
Elie Chammas MD, FESC, FACC - Lebanese Society of Cardiology, Professor of Cardiology, Lebanese University, Head, Division of Cardiology, Clemenceau Medical Center, Beirut, Lebanon
Maja Cikes MD - Department of Cardiovascular Sciences, KU Leuven, Leuven, Belgium
Rodolfo Citro, MD, PhD, FESC - Heart Department, University Hospital "San Giovanni di Dio e Ruggi d'Aragona ", Largo Città di Ippocrate, Salerno, Italy
Ass. Prof. Michal Ciurzynski - Medical University of Warsaw, Department of Internal Medicine and Cardiology, Warsaw, Poland
Prof. Ariel Cohen - Cardiologie, Hôpitaux Universitaires Paris-Est,Hopital Saint Antoine, Hôpital Tenon. Assistance Publique-Hôpitaux de Paris,Université Pierre et Marie Curie (Paris VI)
Paolo Colonna M.D. FESC - Cardiology Hospital Policlinico of Bari - Italy,National President of Italian Society of Cardiovascular Echography (SIEC)
Lauro Cortigiani MD - Cardiology Division, San Luca Hospital, Lucca, Italy
Bernard Cosyns MD, PhD - EACVI (European Association of Cardiovascular Imaging) echo section, BWGNICI (Belgian Working Group of Non-invasive Cardiac Imaging), Cardiology, UZ Brussel
José Juan Gómez de Diego - Laboratorio de Imagen Cardíaca. Hospital Clínico San Carlos, Madrid, Spain
Steven Droogmans MD, PhD - Free University of Brussels
Raluca Dulgheru MD - University Hospital of Liege, Department of Cardiology, Liege, Belgium
Pr Geneviève Derumeaux MD, PhD - Institut Mondor de Recherche Biomédicale, Facuté de médecine de Créteil, Service des Explorations Fonctionnelles, Hôpital Henri Mondor , Assistance Publique-Hôpitaux de Paris, Créteil, France
Erwan DONAL MD, PhD - Service de Cardiologie et Maladies Vasculaires, CHU Rennes, LTSI, INSERM U 1099, Université Rennes-1
Dr. Laurent Davin - Cardiology Department , Chu - Sart Tilman, Liège, Belgium
Thor Edvardsen - Department of Cardiology, Oslo University Hospital, Norway
Perry Elliott MD - The Heart Hospital, London, UK
Roberta Esposito - Department of Translational Medical Sciences, Federico II University Hospital, Naples, Italy
Arturo Evangelista -
Prof. Mohammed Rafique Essop -
Laura Ernande - Cardiovascular Research Center, Massachusetts General Hospital, Boston, MA, USA; DHU Ageing Thorax Vessels Blood, Inserm Unit 955 Team 08, Faculté de Medecine de Créteil, Hôpital Henri Mondor, AP-HP, Créteil, France
Pedro Gutierrez Fajardo - Cardiotest pro S.A. de C.V. Laboratorio de Ecocardiografía. Hospital Bernardette. Guadalajara, Jal. México
Francesco Faletra MD - cardiac Imaging Laboratory of "Fondazione Cardiocentro Ticino " , Lugano Switzerland, Division of Cardiology, Lugano, Switzerland
Miguel Ángel García Fernández - Departamento de Medicina I. Universidad Complutense de Madrid, Spain
Ass. Prof.Marcin Fijalkowski -
Frank A.Flachskampf - Institut för Medicinska Vetenskaper, Uppsala Universitet, Uppsala, Sweden
Kevin Fox - Department of Cardiology, Imperial College Healthcare NHS Trust, Charing Cross Hospital, London, United Kingdom
Assoc. Prof. Andrzej Gackowski MD PhD - Noninvasive Cardiovascular Laboratory - John Paul II Hospital, Dept. of Coronary Disease and Heart Failure - Jagiellonian University, Medical College, Kraków, Poland
Maurizio Galderisi MD, FESC - Standard and Advanced Echocardiography, Federico II University Hospital, Naples, Italy, Chair, Educational Committee EACVI
Leda Galiuto MD, PhD, FESC, FACC - Cardiology, Catholic University of the Sacred Heart, Rome, Italy
Elena Galli MD, PhD Service de Cardiologie et Maladies Vasculaires, CHU Rennes. LTSI, INSERM U 1099, Université Rennes-1
Madalina Garbi - King's Health Partners, King's College Hospital NHS Foundation Trust, London, UK
Luna Gargani - Institute of Clinical Physiology, National Council of Research, Pisa, Italy
André La Gerche - St Vincent's Hospital department of Cardiology, University of Melbourne, Fitzroy, VIC, Australia
Silvia Gianstefani - Croydon University Hospital, London, UK
Carmen Ginghina - Department of Cardiology, University of Medicine and Pharmacy "Carol Davila", Euroecolab, Bucharest, Romania
Alexandra Gonçalves Cardiovascular Division, Brigham and Women's Hospital, Boston, MA, USA and University of Porto Medical School, Porto, Portugal
Covadonga Fernández-Golfin - Cardiac Imaging Unit Coordinator, Ramón y Cajal University Hospital, Madrid.Spain
Dr. Piotr Gosciniak - Cardiology Department WSzZ Szczecin, Poland
Prof. Edyta Plonska-Gosciniak -
Julia Grapsa - Cardiology Department, Cardiovascular Sciences, Hammersmith Hospital, London, UK
Fabio Guarracino - Dipartimento di Anestesia e Terapie Intensive - Anestesia e Rianimazione Cardiotoracica, Azienda Ospedaliero-Universitaria Pisana, Pisa
Gilbert Habib MD, FESC Hôpital Timone, Cardiology Department Marseille, France
Kristina Haugaa MD, PhD - Dept. of Cardiology, Oslo University Hospital, Rikshospitalet, Norway
Christine Henri
Jan d'Hoodge Laboratory on Cardiovascular Imaging & Dynamics, Department of Cardiovascular Sciences, KU Leuven, Leuven, Belgium
Krasimira Hristova MD, PhD National Heart Hospital , Sofia , Bulgaria
Prof. Dr. med. habil. Andreas Hagendorff
Emer Joyce - Department of Cardiology, Leiden University Medical Center,Leiden, The Netherlands
Ruxandra Jurcut Department of Cardiology, University of Medicine and Phramacy "Carol
Davila", Bucharest, Romania
Jaroslaw Kasprzak Chair and Dept. of Cardiology, Medical University of Lodz, Bieganski Hospital, Lodz Poland
Kim O´Konnor - Heart and Lung Quebec Institute, Québec, Canada
Seisyou KOU MD St.Marianna University School of Medicine Department of Cardiology
2-16-1, Sugao, Miyamae-ku, Kawasaki-shi, Kanagawa, 216-8511 Japan
Hyung-Kwan Kim MD, PhD Cardiovascular Center, Department of Internal Medicine, Seoul National University Hospital, Korea
Patrizio Lancellotti MD, PhD - European Association of Cardiovascular Imaging, FESC, FACC, Heart Valve Clinic, Echo Department, Intensive Care Unit, University of Liège, CHU Sart Tilman, Belgium
Roberto Lang Professor of Medicine, Director, Noninvasive Cardiac Imaging Laboratory, The University of Chicago Medicine
Aleksandar Lazarevi? MD, PhD, FESC - Medicine/Cardiology, University of Banja Luka Medical School, Banja Luka, Republic of Srpska, Bosnia and Herzegovina
Jo Nan Liao - Division of Cardiology, Department of Medicine, Taipei Veterans General Hospital, Taipei, Taiwan,Institute of Clinical Medicine, and Cardiovascular Research Center, National Yang-Ming University, Taipei, Taiwan
Professor Piotr Lipiec MD, PhD, FESC - Department of Rapid Cardiac Diagnostics, Medical University of Lodz, Poland
Jorge Lowenstein MD Investigaciones Médicas, Buenos Aires, Argentina
Carlo di Mario MD, PhD, FESC Royal Brompton Hospital, London, United Kingdom
Simon Matskeplishvili MD, PhD, FESC, FACC - Moscow University Clinic, Lomonosov Moscow State University, Moscow, Russia
Gerald Maurer - Division of Cardiology, Medical University of Vienna, 1090 Vienna, Austri
Blazej Michalski MD. PhD - Medical University of Lodz
Marcelo-Haertel Miglioranz
Dr Owen Miller FRACP FCSANZ FRCPC - Paediatric and Fetal Cardiology, Head of Service/Clinical Lead, Evelina London Children's Hospital, London, UK
Mark Monaghan PhD, FRCP (Hon), FACC, FESC Echocardiography, Director of Non-Invasive Cardiology and Associate Medical Director, King´s College Hospital, Denmark Hill, London, UK
Sergio Mondillo - University of Siena, Cardiology Division, Postgraduate School of Cardiovascular Diseases, Siena, Italy
Marie Moonen MD, PhD - CHU Sart Tilman, Liège, Belgium
Daniel Rodriguez Muñoz - Dept. of Cardiology, University Hospital Ramón y Cajal, Madrid, SPAIN
Denisa Muraru - Department of Cardiac, Thoracic and Vascular Sciences, University of Padua, Padua, Italy
Alain Nchimi - Department of Medical Imaging, University Hospital of Liège, Belgium
Aleksandar N. Neskovic MD, PhD, FESC, FACC - Department of Cardiology, Clinical Hospital Center Zemun, Faculty of Medicine, University of Belgrade, Belgrade, Serbia
Petros Nihoyannopoulos - Department of Cardiology, Hammersmith Hospital, Imperial College London, United Kingdom (J.G., T.C., B.C.F.S., D.D., P.N.); Department of Cardiology, Massachusetts General Hospital, Harvard Medical School, Boston (M.C.P.N., T.C.T.); and National Pulmonary Hypertension Service, Hammersmith Hospital, Imperial College Healthcare NHS Trust, London, United Kingdom (I.Z.C., J.S.R.G.)
Prof. Jae Oh MD - Cardiovascular Diseases, Mayo Clinic, Minnesota, USA
Stefan Orwat - , Division of Adult Congenital and Valvular Heart Disease, Department of Cardiovascular Medicine, University Hospital of Muenster, Germany
Prof. Bernard Paelinck - UZA, Wilrijkstraat 10, 2650 Edegem, Belgium
Prof. Tomasz Pasierski - Cardiology Department Warsaw Poland
Agnes Pasquet - Pôle de Recherche Cardiovasculaire, Institut de Recherche Expérimentale et Clinique, Université Catholique de Louvain, Brussels, Belgium; Division of Cardiology, Cliniques Universitaires Saint-Luc, Brussels, Belgium
Denis Pellerin MD, PhD, FRCP, FESC - Cardiology, Barts Heart Centre at St Bartholomew's Hospital
Mauro Pepi - Centro Cardiologico Monzino, IRCCS, Milano, Italy
Ferande Peters - Division of Cardiology, Chris Hani Baragwanath Hospital and University of the Witwatersrand, Johannesburg, South Africa
Philippe Pibarot -
Eugenio Picano MD, PhD - Institute of Clinical Physiology of Pisa
Luc A. Pierard MD PhD, FESC - Department of Cardiology, University Hospital Sart Tilman, Liege, Belgium
Fausto Pinto MD - Lisbon University Medical School, Portugal
Bruno Pinamonti - Ecocardiografia, Cattinara University Hospital , Trieste, Italy
Juan Carlos Plana - Section of Cardiology, Baylor College of Medicine, Houston, USA
Bogdan A. Popescu MD, PhD, FESC, FACC - Department of Cardiology, University of Medicine and Pharmacy 'Carol Davila', Euroecolab, Institute of Cardiovascular Diseases 'Prof Dr C C Iliescu', Bucharest, Romania
Susanna Price - Adult Intensive Care Unit, Royal Brompton Hospital, London, UK.
Dr. Christian Prinz, - FESC Private medical office for Cardiology, Germany
Prof. Edyta P?o?ska MD, PhD - Pomeranian Medical University, Szczecin
Gustavo Restrepo - Director de la Unidad Cardiovascular. Fundación Clínica Valle del Lili, Cali, Colombia
Fausto Rigo FESC - Head of Division of Cardiology, dell'Angelo Hospital, Mestre-Venezia, Italy
Alejandra Carbonell San Román -
Ricardo Ronderos -
Monica Rosca - Carol Davila University of Medicine and Pharmacy, EUROECOLAB, Bucharest, Romania
Leyla Elif Sade MD - Department of Cardiology, Baskent University, Department of Cardiology, Ankara, Turkey
Anita Sadeghpour MD, FACC, FASE Cardiology, Rajaie Cardiovascular Medical and Research Center, Tehran-Iran
Alessandro Salustri Medical Affairs, Sheikh Khalifa Medical City, UAE
Giovanni Di Salvo MD, PhD,MMSc, FESC - Cardiologia SUN, Cardiologia Pediatrica, AO Monaldi
Niloufar Samiei - Rajaei Cardiovascular Medical and Research center, Tehran, Iran
Prof. Manfred Seeberger - Head physician Anesthesia, Clinic Hirslanden, Zurich
Partho SENGUPTA, MD, PhD Zena and Michael A. Wiener Cardiovascular Institute, Icahn School of Medicine at Mount Sinai, New York, NY
Shantanu P Sengupta - Sengupta Hospital & Research Institute, Ravinagar Square, Nagpur, India
Roxy Senior MD, DM, FRCP, FACC, FESC - Clinical Cardiology, National Heart, Lung and Blood Institute, Imperial College, London. Consultant Cardiologist and Director of Echocardiography, Royal Brompton Hospital, London. Consultant Cardiologist and Director of Cardiac Research, Northwick Park Hospital, Harrow, UK
Jadranka Separovic -
Henri Skinner - Department of Cardiology, Heart Valve Clinic, Hospital Sart Tilman, University of Liege, Belgium and Department of Medicine, Montreal Heart Institute, University of Montreal, Canada
Rosa Sicari MD, PhD, FESC CNR Institute of Clinical Physiology, Pisa - Italy
Iana Simova - Department of Noninvasive Cardiovascular Imaging and Functional Diagnostics, National Cardiology Hospital, Sofia, Bulgaria
Evgeny Skholnik Moscow State University of Medicine and Dentistry,Moscow, Russian Federation. Department of Functional Methods in Internal Medicine
Prof. Otto Smiseth MD Head of Clinic, Oslo University Hospital
Peter Søgaard MD, DMSc - Department of Cardiology and Clinical Medicine, Cardiovascular Research Center, Aalborg University Hospital, Denmark
Jae-Kwan Song - Division of Cardiology, Asan Medical Center, University of Ulsan College of Medicine, Seoul, Korea
Muriel Sprynger - University of Liège Hospital, GIGA Cardiovascular Sciences, Department of Cardiology, Heart Valve Clinic, University Hospital Sart Tilman, Liège, Belgium
Ivan Stankovic MD - Department of Cardiology, Clinical Hospital Center Zemun, Belgrade, Serbia
Alexandros S. Stefanidis MD, PhD, FESC - 1st Department of Cardiology, Echocardiography Laboratory, General Hospital of Nikea, Piraeus, Greece
Christine Selton-Suty - Cardiology, University Hospital of Nancy, Nancy, France
Professor Johan De Sutter MD, PhD, FESC - Department of Cardiology, AZ Maria Middelares Gent and University Gent, Belgium
Ass. Prof. Piotr Szymanski - Echocardiographic Laboratory, Valvular Heart Disease Department,Institute of Cardiology Warsaw, Poland
Masaaki Takeuchi MD - Department of Internal Medicine, Tane General Hospital, Osaka, Japan
Katsu Tanaka M.D. Nihon University School of Medicine, Itabashi Hospital, Visiting Scientist: University of Tokyo Hospital, Department of Laboratory Medicine
Gaetano Thiene MD, FESC - Department of Cardiac Thoracic and Vascular Sciences, University of Padua, Padua-Italy
Franck Thuny MD - Cardiology department, Hôpital La Timone, Marseille, France
Thierry Le Tourneau - INSERM, UMR 1087, Institut du Thorax, Nantes, France
Río Aguilar Torres MD, PhD - Cardiology Dpt. Hospital Universitario de La Princesa. Universidad Autónoma de Madrid. Madrid, Spain
Christophe Tribouilloy - Department of Cardiology, University Hospital Amiens, Amiens, France; Jules Verne University of Picardie, Amiens, France
Dimitrios Tsiapras MD, PhD - Cardiology Dpt. Onassis Cardiac Surgery Center. Kallithea, Greece
Philippe Unger - Department of Cardiology, Centre Hospitalier Universitaire Saint-Pierre, Université Libre de Bruxelles, Brussels 1000, Belgium
Filipa Xavier Valente MD - Cardiac Imaging Department, Hospital Vall d'Hebron, Barcelona, Spain
Mani Vannan MD, PhD - Piedmont Heart Institute, Atlanta, GA, USA
Albert Varga MD, PhD, FESC Department of Cardiology, University of Szeged, Hungary
Clara Vazquez MD - Department of Echocardiography, National Institute of Cardiology "Ignacio Chávez ", México
Nico Van de Veire MD, PhD - AZ Maria Middelares Gent / Free University Brussels, Belgium,
Prof. Dr. Jens-Uwe Voigt - Department of Cardiology, University Hospital Leuven, Belgium
Damien Voilliot - CHU de Nancy, Département de Cardiologie, Hôpitaux de Brabois, Vandœuvre lès Nancy, France
Frank Weidemann MD - Department of Internal Medicine I, University Hospital Wuerzburg, Germany
Tsai Wei-Chuan - Department of Internal Medicine, National Cheng Kung University Hospital, Taiwan
Prof. Dr. Patrick Wouters - Diensthoofd, Anesthesie, Universitair Ziekenhuis, Gent, Belgium
Siew Yen Ho FRCPath, FESC Royal Brompton &Harefield Hospital, London, UK
Kiyoshi Yoshida MD, PhD - Cardiovascular Medicine, Kawasaki Medical School, Okayama, Japan
Peng-Fei Zhang MD, PhD Associate Professor of Medicine, Department of Cardiology,Qilu Hospital, Shandong University
Yun Zhang MD, PhD, FACC, FESC, FASE Qilu Hospital, Shandong University, Jinan, Shandong, People's Republic of China